Steve Backshall tracks down 60 of the world's deadliest animals in Deadly 60.
The Deadly 60 range of Character Building toys are based around the incredibly popular Deadly 60 animal TV series.
Character Builder 'Micro Deadlies ' toys are mini figures of some of the Deadly 60 animals encountered by Steve Backshall . Micro Deadlies toys first launched in January 2012.
Deadly 60 is one of the ranges produced in partnership with COBI toys (aka Wild Story).
Note that Deadly 60 Micro Figures do not come with display bases/stands.
TV Series
[
]
Deadly 60 is show on CBBC and stars presenter Steve Backshall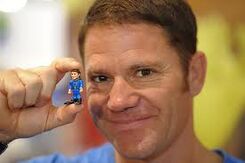 and crew as they travel the world in search of 60 deadly and often critically endangered animals.
Licensed by BBC Worldwide, Character Options also released a ranges of plush and plastic toys themed on the awesome Deadly 60 brand, and following earlier success with Deadly 60 trading cards.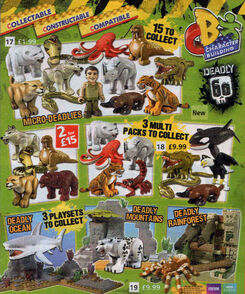 Blind Bags
[
]
There are 15 Micro Deadlies in the first wave. The series included 4 different versions of Steve and many different animals.
Micro Multi Packs
[
]
Re-create the adventures from Deadly 60 or build your own collection of the deadliest animals on the planet. Each pack includes 5 highly detailed micro-deadlies. 
Three 5 packs to collect:
One 15 pack:
Playsets
[
]
A range of different size Playsets featuring Micro Deadlies in their habitats includes:
Promotions
[
]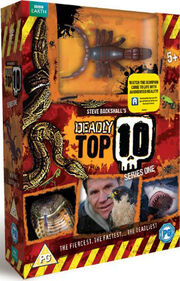 A Micro Deadly (the Transvaal Fat Tailed Scorpion) was included with the "Deadly 60 – Deadly Top 10 – Series 1"  Limited edition DVD.
Official Videos
[
]
Here is an official advert for the range