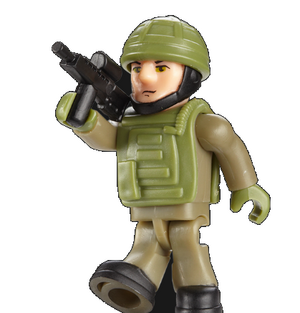 This is a Common within
H.M. Armed Forces
range.
The Royal Marines are the UK Royal Navy's 'go anywhere' amphibious forces and a key component of the government's Rapid Reaction Force. As such, they are required to be trained to work in different terrains and environments, from the cold, mountainous conditions in Northern Europe, to the hot arid regions of the Middle East and Africa and to the dense tropical jungles of the Far East. All Royal Marines are required to undergo what is recognized as one of the longest and most demanding infantry training regimes in the world at the Commando Training Centre, Lympstone. On completion of training all Royal Marines are entitled to wear the 'Royal Marines Commando' flash on their uniform.
Minifigure
Edit
The Royal Marines Commando is avaliable with three diffrent items. It was first avaliable with Series 1 of the Minifigures. Then it was released within Royal Navy Assualt Rib Miniset. Soon after it was released in a Multi Pack of 5, to increase your Army! Both the Royal Navy Assualt Rib Miniset and the Multi Pack was orginally released at £10.00. Aswell as being very common, it is one of the most enjoyed Minifigure, as it is a classic Army fighter!
Avaliability
Edit
The Full list of how you can get this figure is here:
Royal Navy Assualt Rib Miniset
How Rare?
Edit
Royal Marines Commando is rated common.