Royal Navy Type 45 Destroyer



Recommended Price

£49.99

Pieces

514

Micro Figures

1 Royal Navy Pilot, 2 Royal Navy Deck Gunners, 2 Royal Navy Ratings

Item Number

04034

Release Year

2011

Theme:
Now you can build your own replica Royal Navy Type 45 Destroyer; the largest and most powerful air defence destroyer ever operated by the Royal Navy and the largest general purpose surface warship to join the fleet since World War Two cruisers.
The Type 45 is large and spacious enough to accommodate 60 Royal Marines Commandos and can operate close inshore and uses its sophisticated missile system to give air cover to British Forces engaged in land battle.
Take aim with the rotating forward gun turret and opening missile launch bay so nothing can stand in the way of this impressive H.M. Armed Forces ship.
The Royal Navy Type 45 Destroyer playset features five H.M Armed Forces micro-figures a helicopter hanger with opening door, equipment storage rack and helicopter!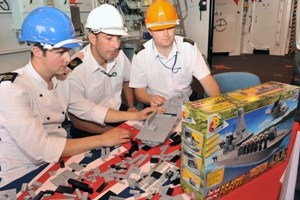 Character Options'  new H.M. Armed Forces sets launched in shops last week and had their first experience on the seas this week after the Royal Navy organised an against-the-clock challenge on board the Type 45 Destroyer, HMS Diamond. 
The challenge saw three teams combine their knowledge of the destroyer with their creative-building skills in a contest to see who could would be first to build the new 514 piece, Character Building Type 45 Destroyer kit. 
The 514 piece set includes 5 figures and many features of the ship including the Silo with Missiles, Operations Room consoles and seating, guns and turrets, not to mention the distinctive Type 45 shape that any mariner would instantly recognise. The added challenge however was to build it without the included instructions; which proved a lot more difficult than anticipated. 
The event took place on Tuesday 9th August 2011 on board HMS Diamond, which is currently docked in Portsmouth. The proud winners were a team which brought together personnel from HMS Northumberland, Navy Command HQ and HMS Diamond who triumphed over HMS Diamond's own team and one from BAE systems, who build the class! 
Speaking of the event, Mark Hunt from Character Options commented: "
We would like to thank the Royal Navy for organising this fun event. It certainly demonstrated the challenge that this set holds for children and shows the authenticity of the model too. Our Type 45 is an amazing set for anyone who loves construction or is into military-inspired toys.
"
Community content is available under
CC-BY-SA
unless otherwise noted.